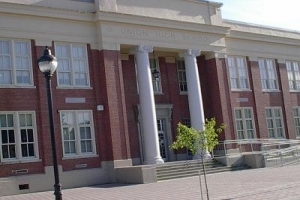 This site is an adjunct to the Sedro-Woolley Alumni Group on Yahoo.com. I created it so that features that are limited or unavailable on Yahoo Groups can be included here. If you have reunion news or other news of interest to other S-WHS alumni, current students or faculty and staff let me know. If you would like information about the In Memorium page on this site, I'll be happy to answer your questions. I only place the names and information of deceased alumni on that page at the request of immediate family. Contact me at

The S-WHS Alumni Group is located at
Join us and contribute your stories about your years at Sedro-Woolley High School. Faculty and staff, both past and present, are very welcome to join in and contribute.
Visit the Bulletin Board page to post messages on the Forum when the Yahoo.com club is on the fritz. Post your buy, sell, trade, personal, etc. ads in the wantads. post upcoming events there too. You can also post information about upcoming events such as reunions there yourself. I have posted the reunion informatin that I have there, but you don't have to wait for me.
Also, check out the Recent and Upcoming Events page for more detailed reunion information.
Membership in the Alumni Association is $10 per year and membership dues are used for the expenses of the organization. We publish a mailed newsletter and are considering transition to an email version for those members who prefer the soft copy. Our mailing list is currently 4500 newsletters, but our membership is eroding. the 2008 membership so far this year is 382 (the classes of '46 and '50 currently have the most). The Association is ready to make other changes and enhancements to increase membership and ensure that we can continue awarding Vocational Scholarships. But we need active participation from more classes.
Name: (include name at graduation and current).
Mailing Address:
Home Phone:
Mail this information and $10 per membership year to:
SWHS Alumni Association
P. O. Box 509
Sedro-Woolley, WA 98284
We thank Judy for sharing her class email with us, and we thank all of you for your attendance at the class meetings and for your endless support to the Sedro-Woolley High School Alumni Association.
Ed Hoyt
The 2008 Fall/Winter Alumni Association Newsletter is now available on the Alumni Association page.
Visit the Members List page to see who is a member of the Yahoo.com Sedro-Woolley Alumni Club. There is an "In Memorium" page here. If you would like to include names of family or friends who were Sedro-Woolley alumni, contact me.
A new page has been added so that you may read the minutes from meetings of the Sedro-Woolley High School Alumni Association. You will find a link to the Association's page at the top of this page, or click below.
Sedro-Woolley High School Alumni Association